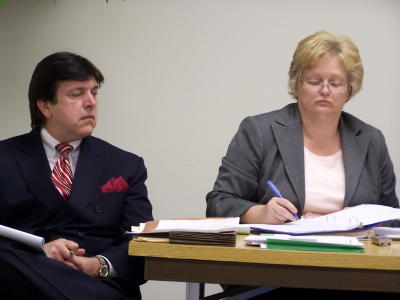 Charleston attorney Mark McMillian represented
superintendent Lynch during Monday evening's meetings
By Bob Weaver
Calhoun school superintendent Jane Lynch issued her resignation last night to the Board of Education, cutting her contract short by several months. The board unanimously accepted the resignation.
The board has variously been in conflict with Lynch for several months over what they indicate are performance issues.
Board president Cynthia Dale has been at loggerheads with Lynch during business meetings, while some principals have appeared at meetings to express their disapproval over placements and workloads.
Calhoun Middle-High School is suffering significant problems, from not meeting Average Yearly Progress to being cited for a number of shortcomings in two audits done by the State Department of Education.
Charleston attorney Mark McMillian appeared to represent Lynch, and was present throughout Monday's meeting. He first appeared during a special closed session which the agenda said was to receive goals and objectives of Superintendent Lynch.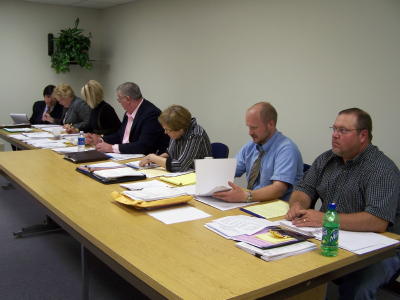 Board members conducted a lengthy agenda during a tense meeting
During the open meeting, there was no mention of the reason for his presence.
McMillian, one of Charleston's priciest attorneys, arrived in a stretch limo with chauffeured driver, causing considerable discussion by meeting attendees.
Lynch has been appointed by the State Board to be the director of RESA VIII in Martinsburg at an annual salary of nearly $93,000, leaving her Calhoun post on November 12.
Following the early-evening closed session, the meeting was opened to school administrators to discuss what steps are being taken to improve performance in county schools.
CM-HS principal Karen Kirby said the discussion focused on student achievement, alternative education, discipline and after-school programs, with the special meeting agenda saying the issue to be discussed was the superintendent's administration regarding student achievement.
The board's regular meeting commenced at 7 p.m. (More to follow).
The board will have a special meeting Wednesday evening to begin a search for an interim superintendent.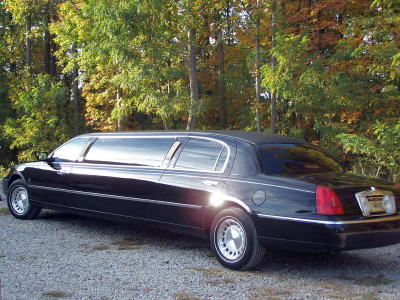 Heads were turned by a Charleston attorney's limo causing
a stir among those attending Monday's school board meeting, an unusual sight in Calhoun County