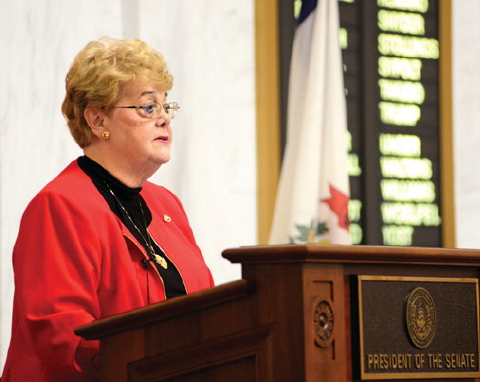 Donna Boley is the only woman in the West Virginia Senate (R-Pleasants) and has been recognized as a state "Wonder Woman."
The number of women serving in state Legislatures has been stagnant for several years.
In three decades of service, the seasoned lawmaker has been an "only" before. Appointed to a vacant seat in 1985 by Governor Arch Moore, her roughest period, she says, was when she was the only Republican in the Senate from 1992 to 1994.
"But I did become minority leader by default and could serve on every committee," she says.
Boley served on the Republican National Committee from 1992 to 2004 and served as delegate to the Republican National Convention from 1988 through 2004.
She's proud of instigating changes that led to transparency in the state's debt, as well as changes that assured that smaller counties would maintain Senate representation. More recently, she's working to repeal the Common Core education standards.
After all these years, Boley isn't fazed by being the only woman in the Senate. "I've been there longer than any of the guys," she says.
Billy Joe Peyton, professor of history at West Virginia State University, said "Some old myths that one still hears from some men is that women are not capable of making tough decisions or that they are too emotional for public office," he said. "History shows this attitude to be patently false."
Boley's husband, Jack, will be the speaker at a veterans day celebration on Sunday, November 8 at the Community Building in Creston. Boley will talk about his experience when the military was testing to see how much radiation from bomb blasts soldiers could withstand.